| | |
| --- | --- |
| | This article is a stub. Help expand it or aliens will abduct you. |
South Park: The Stick of Truth
Edit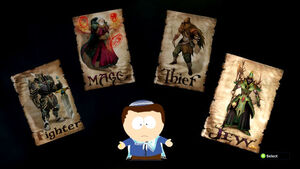 There are four classes available to The New Kid in South Park: The Stick of Truth which are:

Fighter - A frontline fighter meant to take and deal damage.

Mage - A spell casting class that while weak physically can deal damage through abilities.

Thief  - A stealthy class that utilizes a multitude of status effects to deal large amounts of damage over time and stun opponents.

Jew - Similar to a Monk in other games; a high risk, high reward class that deals more damage the lower his health.
South Park: The Fractured But Whole
Edit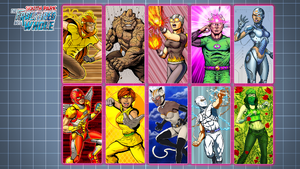 In South Park: The Fractured But Whole, The New Kid will initially have three starting class choices, but additional classes can be acquired during game play.
Initial Classes
Edit
Additional Classes (Batch 1)
Edit
Additional Classes (Batch 2)
Edit
Additional Classes (Batch 3)
Edit
Additional Classes (Batch 4)
Edit