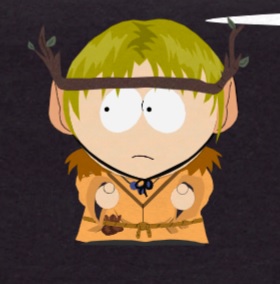 No higher resolution available.
Description
Edit
The Elven Priest is a spellcaster unit loyal to the Drow Elf faction. The Priest has low armor and health so he will often be placed behind the melee units. The Priest wears an crown made of sticks, blonde hair, an off orange tunic and a charm necklaces. The Priest has only one method of attack (throwing a rock) that although does low damage appears to ignore armor. The Priest will only attack if he and all his allies are above 75% health and after he has casted Wild Power giving the Priest and his allies an attack and defense boost. The Priest uses three spells, the previously mentioned Wild Power, Natures Bounty, and Natures Rebirth. Natures Bounty is a healing spell regenerating 50% of the recipients base health, it can be casted upon the Priest's allies as well has himself. Natural Rebirth revives a fallen ally, restoring him to full health, regenerating his original armor value and removing any debuffs he previously had before "dying". Unlike the other two spells the Priest cannot use Natures Rebirth on himself.
File history
Click on a date/time to view the file as it appeared at that time.
Ad blocker interference detected!
Wikia is a free-to-use site that makes money from advertising. We have a modified experience for viewers using ad blockers

Wikia is not accessible if you've made further modifications. Remove the custom ad blocker rule(s) and the page will load as expected.