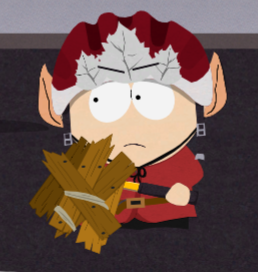 No higher resolution available.
Description
Edit
Heavily armored soldier loyal to the Drow Elf faction. The Elven Protector wares a red and white helmet with white maple leaves as its crest, as well as a red tunic. The Protector wields a utility hammer as his main weapon and attacks at fast to medium intervals with medium damage. The Protector has three abilities: armor up, slowing smash, and shields. The Protector will often begin combat with 3 shields which protect him from all damage except debuffs. The Protector will often re-equip his shield after it has been destroyed if he has not taken a significant amount of damage. The armor up ability is used after his shields are down and he as taken a significant amount of damage. The armor up ability doubles the Protector's current amount of armor and adds a defense up buff. Slowing smash is a randomly used ability that if hits successfully (not blocked) will inflict "slowed" debuff on the victim. The Protector uses a delayed attack pattern when using slowing smash, which can catch the player off guard expecting the Protector to use is normal attack speed. A forth ability (attack up) is activated if all the Drow Elves in the area except the Protector are knocked out before combat begins.
File history
Click on a date/time to view the file as it appeared at that time.
Metadata
Ad blocker interference detected!
Wikia is a free-to-use site that makes money from advertising. We have a modified experience for viewers using ad blockers

Wikia is not accessible if you've made further modifications. Remove the custom ad blocker rule(s) and the page will load as expected.