| | |
| --- | --- |
| | This article is a stub. Help expand it or aliens will abduct you. |
Karen McCormick is a character in South Park: The Stick of Truth. She is Kenny McCormick's sister.
Karen has no role outside the story, apart from becoming friends with The New Kid if he visits Kenny's house and talks to her before and after the quest Hot Coffee.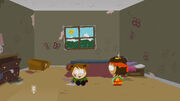 In South Park: Fractured But Whole, Karen has been updated to her latest look, in similar vein to Season 19 of the South Park animated series. She is available in her bedroom on Day 3 onwards in-game, whereby The New Kid can take a selfie with her after returning her doll, which can be found in the Soft Room of Park County Police Station.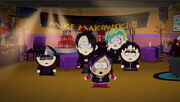 In the South Park: Fractured But Whole DLC From Dusk till Casa Bonita, she becomes friends with the Vampire Kids, in which her 'guardian angel' tries to rescue and stop her from doing so. In her Vampire Kid look, her pig-tailed hair is colored black with purple accents, she also wears a black tattered top and magenta pants and fingerless gloves. Her face still has the messy look as with her original form in the main game, though it is accented with purple eyeshadow makeup.
South Park: The Stick of Truth
Edit
South Park: The Fractured But Whole
Edit
Field/Story
Edit
At the end of From Dusk till Casa Bonita

"No, thanks. Gift bag are so fucking lame." (After Henrietta Biggle give her a cigarette stick and change her personality)
"Aww, now I'm sad."
"Quit it, Guardian Angel! You're hurting them!"
"I don't need your help!"
"Please, Butthole, don't hurt them!"
"Stop, Guardian Angel. You're scaring me!"
"You should stop, drop, and roll!" (When a Vamp Kid is burning)